Florida's Democratic US Senator Bill Nelson conceded on Sunday the loss of his seat to outgoing state governor and Republican Rick Scott after the voting recount deadline passed and Scott was 10,000 votes ahead.
Scott actually first announced his opponent's concession saying, in a statement: "I just spoke with Senator Bill Nelson, who graciously conceded, and I thanked him for his years of public service."
A little later on Sunday afternoon, Nelson issued his own statement.
"It has been a rewarding journey as well as a very humbling experience," said Nelson. "I was not victorious in this race but I still wish to strongly re-affirm the cause for which we fought: a public office is a public trust."
The stunning close of nearly two weeks of high political drama in the presidential swing state likely spelled the end of the political career of the 76-year-old Nelson. First elected to Congress 40 years ago, Nelson had been a Democratic survivor in an era when Republicans swept to power in Florida.
At the other end of the scale, Democratic newcomer and narrowly-unsuccessful candidate for the governorship of Florida, Andrew Gillum, the young mayor of state capital Tallahassee, also conceded his bitter, racism-tinged contest but said: "Stay tuned."
Donald Trump even praised Gillum as "strong Democrat warrior", tweeting that he will be a "force to be reckoned with".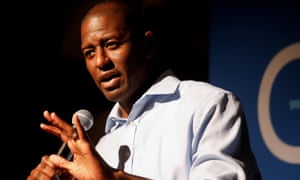 The recounting of votes in the knife-edge midterm election in Florida, dragging on almost two weeks after election day amid bitter rhetoric, legal challenges and a nightmare throwback to the 2000 presidential election, wrapped up early Sunday afternoon. By Saturday night the chances of Nelson holding onto his seat had been already looking slim.
Andrew Gillum, officially conceded the Florida governor's race on Saturday evening .
"This has been the journey of our lives. We've been so honored by the support that we've received," Gillum said in a video statement. "We know that this fight continues, in spite of the outcome of this election."
Gillum posted a live video on Facebook on Saturday afternoon in which he congratulated Republican rival Ron DeSantis. Gillum had conceded to DeSantis on election night, but retracted it after the margin between the two candidates narrowed.
The race went to a legally required recount, but after an initial machine recount DeSantis still led Gillum by more than 30,000 votes.
Gillum, who is Tallahassee's mayor, isn't saying what he plans to do next.
"Stay tuned," he said in his brief remarks. Nonetheless, Gillum says he will remain politically active, adding "the fight for Florida continues."
Gillum's announcement came hours after the US president, Donald Trump, said on Twitter that Gillum will be a "strong Democrat warrior" and a "force to reckon with."
There was no immediate response from DeSantis or his campaign.
Not many experts expected Gillum to win the primary to become the Democratic candidate in hotly contested Florida. As the nominee, he faced a difficult fight in a state that Trump carried comfortably in 2016, but he frequently polled ahead of DeSantis for much of a campaign that became a symbol for a fight between a predominately white Republican party and a rapidly diversifying Democratic opposition.